Region 18 President's Message – 10-14-2017
We had a very successful October 8th 2017 CompTIA AITP Region 18 Conference in Charleston, WV., "MISSION imPOSSIBLE – Cyber Security Today: Its effect on us professionally and personally. Mary Jane Scruggs did a great job as the conference Chairperson and her and her team put on a first class event.
Conference Chairperson: Mary Jane Scruggs
Team Members:
Jen Addair
Brenda Angle
John Biros
Kelly Donham-Harris
Irene Edge
Bill Fairbanks
Jim Glasgow
Paul Jeremiah
Ken Kleiner
Karen Kovacs
Joyce Moses
Nick Regopoulos
Carolyn Walters
CompTIA AITP Representatives:
Director, CompTIA AITP – Colleen Loeffler Phonwiang
CompTIA Faculty Member & Conference Speaker – Ted Cole
We also had two student competitions – LaRoche College, PA and Kent State Ashtabula, OH participated. This is the first Region 18 student competition we've had in several years. Congratulations to all who participated and especially to LaRoche College for winning both competitions.
Student Programming Competition
Team from La Roche College received 1st Place
Antonio Munoz
Jigar Prajapati
Hemang Sharma
Student Network Design Competition
Team from La Roche College received Honorable Mention
Angela Cisneros
Kenneth Swegman
Mohammad Sohail
Team from Kent State University at Ashtabula received Participation Award
Abby Raikes
Kathryn Osborne
Our Region 18 BOD meeting was held on Sunday, October 8, 2017 at 11:00 AM in the Hospitality Suite at our CompTIA Region 18 Conference in Charleston, WV. PLEASE SEE HARVEY SCHOENMAN'S LETTER INCLUDED IN THIS COMMUNIGRAM THAT GIVES YOU THE PROPOSED SLATE OF YOUR REGION 18 OFFICERS FOR 2018 AND COVERS THE PROCESS TO FOLLOW IF YOU ALSO WANT TO NOMINATE YOURSELF AND THE VOTING PROCESS AND SCHEDULE THAT WILL BE FOLLOWED.
Our next Region 18 teleconference meeting will be held on October 26th. Our Region 18 Board of Directors meetings are normally on the fourth (4th) Thursday evening of every month. The meetings are usually held via teleconference. If you'd like to participate in future RD meetings, please contact your RD for the dial in numbers or any of your Region Officers. If you're not an Officer or RD, please contact Mary Jane Scruggs at "mjscruggs@att.net" and let her know you'll be attending so you can be added to the roll call.
Our Region 18 Mission:
Providing professional and leadership development for the IT professionals and students attending.
Creating opportunities to network with other IT Professionals and students.
Staying on the forefront of information technology through
Your 2017 Region 18 Officers are:
President – Brad Moses – Research Triangle Chapter
Vice President – Carolyn Walters – Tarheel Chapter
Treasurer – Nick Regopoulos – Akron-Canton Chapter
Secretary – Mary Jane Scruggs – Akron-Canton Chapter.
Jen Addair, addair.jen@gmail.com, is our Communigram editor. Please keep her updated on your Professional and Student Chapter activities so they can be included in the next Commungram, which she normally publishes during the first week of each month. Please submit your updates/articles to Jen NLT than the end of the last week in the current month.
I'm proud to have the opportunity to be your Region 18 President. We have a dedicated team of Region Officers and RDs to help your Region deliver value to members – but, we can't do it alone. We need your help also. So, please step up to the plate and volunteer a few hours of your time and talent to your Region and/or Chapter.
Thank you and let's have continue to have a great 2017.
Brad Moses
AITP Region 18 President
brad@gpsolutionsinc.com
mobile# 919-395-7926
More Pictures from the Conference
Region 18 Officer Nominations
To all professional members of AITP Region 18:
At the October 8, 2017 Region 18 board meeting, we proposed and had accepted the following slate of officers for 2018.
President: Brad Moses (RTP Chapter)
Vice President: Carolyn Walters (Tarheel Chapter)
Secretary: Mary Jane Scruggs (Akron Chapter)
Treasurer: Nick Regopoulos (Akron Chapter)
Past President: Harvey Schoenman (Pittsburgh Chapter) (a non-elected position)
Pursuant to our bylaws we are also asking for other nominations (can be self-nominations) at this time. Please ensure that anyone you wish to nominate is a member of AITP. Include their name, email address, phone number, chapter and position for which they are vying. Email to region18.aitp@gmail.com. Address (inside) to Harvey Schoenman.
We are asking that all nominations be submitted by 5:00 pm (Eastern) on October 25, 2017. At our next region board meeting on October 26, 2017, we will finalize the slate of officer nominees.
There will be a subsequent CommuniGram and/or email that will explain the voting procedure and related deadline dates. Voting will be for President, Vice President, Secretary and Treasurer. One does not vote for Past President.
Harvey Schoenman
Pittsburgh Chapter
Region 18 Nominating Committee
Chapter News
Akron Chapter
The Akron Chapter's next meeting will be held on Thursday, October 19th from 6:00 PM to 9:00 PM.
The topic of discussion will be: Making Apps Listen and React with LUIS(Language Understanding Intelligent Service)
Language Understanding Intelligence Service (LUIS) is part of Azure's Cognitive Services. It's built on the interactive machine learning and language understanding research from Microsoft Research. Luis provides the capability to understand a person's natural language and respond with actions specified by application code. In this session we'll examine how this powerful feature can be integrated into applications, offering a more natural interaction with a device.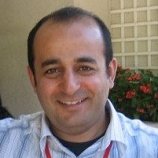 Bio
Sam Nasr has been a software developer since 1995, focusing mostly on Microsoft technologies. Having achieved multiple certifications from Microsoft (MCSA, MCAD, MCTS, and MCT), Sam develops, teaches, and tours the country to present various topics in .Net. He's involved with the Cleveland C#/VB.Net User Group, where he has been the group leader since 2003. In addition, he's the leader of the .Net Study Group, an author for Visual Studio Magazine, and a Microsoft MVP since 2013. When not coding, Sam loves spending time with his family and friends or volunteering at his local church.
Meeting Sponsor: Expedient

Networking: 6:00pm – 6:30pm
Presentation: 630pm – 7:30pm
Wrap-up and Door Prizes: 7:30pm – 8:00pm
Registration
Greater Wheeling Chapter
The Greater Wheeling Chapter will held its October meeting on Wednesday, October 11, 2017 at the White Palace in Wheeling Park, Wheeling WV.
Meeting Topic & Speaker
The presentation consisted of highlighting Chapter Standards to make Gold, Silver or Bronze as an organization at APUS, upcoming initiatives within the chapter, and a special presentation by Dr. Karen Hand entitled, "Descriptive Post Titles as Advance Organizer: Effects on Critical Thinking and Cognitive Load in Asynchronous Threaded Discussions."
Dr. Novadean Watson-Stone is currently the Program Director for the Graduate and Undergraduate Information Technology and Information Technology Management Programs at American Public University System (APUS), where she serves an aggressively growing department consisting of over 10,000 students and over 100 faculty members. In this leadership and management position, she works closely with the School's Dean to effectively manage program activities across functions in the school (sharing faculty, etc.) and the University (Admissions, Academic Services, Student Services, and IT) to create, implement, and manage systems to support effective online teaching and learning. Recently, Dr. Watson-Stone published a blog piece on Women in STEM – Payment Equality in IT, October 2015, and a Q&A piece on Cybersecurity in Higher Education at evoLLLution.com, November 2014; she presented research on Multimedia Beyond the Click at the 7th Annual Emerging Technologies for Online Learning International Symposium April 9-11, 2014 – Dallas, TX; conducted a podcast promoting key topics in the information technology industry, Summer of 2014.
Dr. Karen Gail Hand is a professor of Information Technology in the school of Science, Technology, Engineering and Math for the American Public University System. She has been working in the Information Technology field for over 30 years and teaching for over 20 years. Karen has dual Masters Degrees in Computer Science and in Open and Distance Learning. She also has a Ph.D. in Instructional Systems and Learning Technologies from the Florida State University. In addition to teaching Information Technology, Karen leads a weekly conversation group for English as a Second Language (ESL) adult learners and volunteers in her community as an ESL tutor.
Pittsburgh Chapter
The Pittsburgh Chapter held their October meeting on Tuesday, October 3rd.
The topic of discussion was In Demand Certifications: How to Make a Redhawk Soar
This seminar reviewed popular IT and business certifications and will address the value and importance of certifications in the business world.
Agenda:
Introductions
The Value of Certifications
IT Certifications
Project Management Certifications
Other Certifications
Preparing for Certifications
Q/A
Dr. Denis Rudd II
Denis is the General Manager at New Horizons Computer Learning Centers of Pittsburgh. He has been with New Horizons since 2003 and prior to coming to New Horizons he was a high school teacher, financial associate, corporate trainer, and currently teaches as an adjunct professor at several colleges and universities in the Pittsburgh area. He is currently researching the quality characteristics of online synchronous training, humor in online classes, and is refining his KIP Model (Knowledge, Interaction, and Personality) of Online Training. Denis has a Bachelor's of Arts in English Education, a Master's of Science in Communication and Information Systems, a Master's of Science in Management Information Systems, and a Doctorate of Philosophy in Instructional Management and Leadership.
RTP Chapter